View printer-friendly version
<< Back
Choice Hotels Promotes Anna Scozzafava to Vice President of Strategy and Planning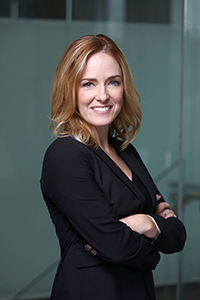 ROCKVILLE, Md. (November 28, 2017) – Choice Hotels International, Inc. (NYSE: CHH), one of the world's largest hotel companies, announced the promotion of Anna Scozzafava to vice president of strategy and planning. In this new role, Scozzafava will oversee Choice's corporate strategy, business transformation and technology planning functions, ensuring the company's continued alignment between business and technology objectives.
Scozzafava has been an integral member of Choice's corporate strategy team since 2011, most recently serving as senior director of corporate strategy and planning. During her tenure, she has helped to successfully outline Choice's business objectives and technology blueprint as well as implement leading technology advancements to help maximize franchisee return on investment. Scozzafava has played a critical cross-enterprise role in several strategic areas, including the global growth of the company's upscale brands and the execution of the Comfort brand transformation strategy.
"Choice Hotels is uniquely positioned as both a leading hotel company and technology innovator in the hospitality industry. Our core business focus is to ensure the profitability of our franchisees and shareholders, and our technology and tools are a key component of their success," said John Bonds, senior vice president, enterprise operations and technology. "Anna has a deep understanding of our overall corporate strategy, and extensive experience in leading the successful business integration of key technology initiatives, making this promotion well deserved. Her new role reinforces her critical role to continue the harmonization of these functions and teams for both short and long-term growth opportunities for the company and our franchisees."
Prior to joining Choice, Scozzafava worked at Corporate Executive Board (now Gartner), a leading technology advisory firm. Scozzafava earned her bachelor's degree from Washington College.
# # #

About Choice Hotels
Choice Hotels International, Inc. (NYSE: CHH) is one of the world's largest hotel companies. With over 6,500 hotels franchised in more than 40 countries and territories, Choice Hotels International represents more than 500,000 rooms around the globe. As of September 30, 2017, over 800 hotels were in our development pipeline. Our company's Ascend Hotel Collection®, Cambria® Hotels, Comfort Inn®, Comfort Suites®, Sleep Inn®, Quality®, Clarion®, MainStay Suites®, Suburban Extended Stay Hotel®, Econo Lodge®, Rodeway Inn®, and Vacation Rentals by Choice Hotels® brands provide a spectrum of lodging choices to meet guests' needs. With more than 33 million members, our Choice Privileges® rewards program enhances every trip a guest takes, with benefits ranging from instant, every day rewards to exceptional experiences, starting right when they join. All hotels and vacation rentals are independently owned and operated. Visit us at www.choicehotels.com for more information.
© 2017 Choice Hotels International, Inc. All rights reserved.